Social Networks
0 Reviews
Make your store Social!
Manage all social services easily from one place. Easy to place widgets and all SDK graphics variants supported! Integrates Facebook, Google+, Twitter, and Youtube.
Integration of the most known social networks

Use of native graphics with SDK

Facebook reviews

Instagram and Youtube
Description
Share your products
Sharing of content on social networks is what people are used to for a long time yet. Let them share what they like and get new customers by using modern trendy technology. Social tools bring your shop closer to potential customers. It allows sharing and presenting people thoughts and opinions. Let the shop spread its own social network and watch the results.
Buttons here, buttons there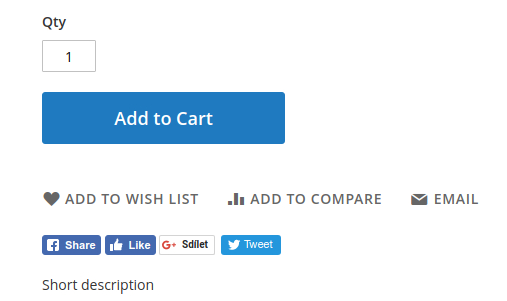 The extension integrates the most known social networks in one place and uses their modern technology model. In cooperation with SDK (Software Development Kit), it brings all known graphics and functionalities. There are plenty of possible button views at each social service to be used. It can be used on the product detail page as well as on any other pages via Magento CMS widgets.
Reviews, Images, Videos
There is nothing better than showing visitors, how the customers are satisfied with services your shop offers. The extension supports Facebook reviews that can be placed anywhere in the store via the CMS widget.
It is fine to show visitors album from your last promo action. No problem with the Instagram integration.
Are you promoting your products or e-shop on YouTube? Get it right into your store with a Youtube widget.
These all services and integrations are ready to make your store even better and accessible. Join us now!
Key features
Integration of the most known social networks
The extension integrates features of Facebook, Google+, Instagram, and YouTube

All at one place, easy to set up
Use of native graphics with SDK
All buttons use SDK. This guarantee that all graphics and features will be always up to date.
Facebook reviews
Get customers opinions right to your store and place it anywhere you want.
Instagram and Youtube
Use Instagram and place your latest pictures in your store to show it is alive.

Promote your products on YouTube. Use the CMS widget and place your YouTube playlist anywhere in your store.
Certified Magento developers
We are an enthusiastic team of Magento developers experienced with fixing, editing, enhancing and developing custom solutions for this system with many years of experience. We have satisfied customers all over the world!
Continual innovation
We continuously extend our modules functionality and apply latest innovative technologies into our development in order to bring you the best possible user experience.
Well-developed documentation
Each of our modules includes well-developed documentation. Simplicity and usability of our guides are in the first place. With their help, the installation and setup of your module will be fast and simple.
Key Features
Reviews
Changelog
Key Features
Integrates Facebook, Google+, Instagram, and YouTube
All at one place, easy to set up
Use of native graphics with SDK
Facebook reviews
Instagram albums
YouTube playlists
Product Reviews
You're reviewing: Social Networks