Compatibility
Open Source (Community) 2.3, 2.4 (2.4.6)
All in one place
This featured robust module adds your store to a new dimension. A complete subscribers, groups, newsletters, and statistics administration in one place satisfies all your promotion needs.
Robust feature-rich extension

Subscriber management

Groups management

Professional newsletters

Rich statistics
Details

Reviews

Key Features

Changelog
Details
Promote it your way
Promotion is one of the most important marketing tools ever. There are many extended services offering promotion tools, like newsletter subscribers evidence, newsletter editing and sending, gathering statistics and so on.
It is always difficult to find the service which tailors your needs and is not too expensive.
We have a good news!
Our extension meets all your requirements. Managing subscribers was never as easy.
Subscribers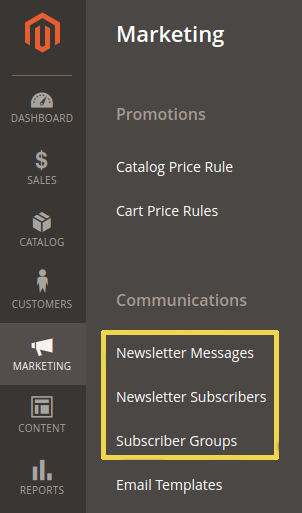 There is a subscriber import feature, so it is easy to transfer subscribers from an old store or another service. Subscribing and unsubscribing as a process remained the same as in default Magento so no other functionalities or graphics are affected.
Groups
It is possible to make multiple subscriber groups with various rules. Subscribers are added to groups according to the rules or manually by import or clicking subscribe link in an email.
Newsletter
There is a full-featured CMS editor, which allow the administrator make visually effective newsletters with images, links and CSS styles. These newsletters can be set to be sent only to a specific subscribers group at a specified time.
Statistics
There is a perfect statistics page at every sent newsletter. It shows a number of successfully delivered newsletters, unique openings, and clicks. It observers every link separately so the statistics of the most visited link is available too. There are graphs showing visits and openings in time, in percents and much more.
Mailer is also capable of becoming a sender for all Magento e-mails.
Try out this well-developed extension and get much more than you are looking for.
Key features
Robust extension with many features

Default system mailer

the extension may become a default system email sender

Managing Subscribers

import subscribers from the old store and set them to a default or specified groups

subscribers are automatically added to groups according to predefined rules

Subscriber groups

Make as many groups as you need and set them own rules

Many rules to sort subscribers effectively

Newsletters professionally

Make visually effective newsletters in fully-featured CMS editor

Send newsletters to specified groups and in a specified time

Rich statistics

Every newsletter has a rich statistics page with many graphs

There is a unique opening and click counter, links counter, delivery counter etc.
Reviews
Key Features
Robust feature-rich extension
Subscriber management
Groups management
Professional newsletters
Rich statistics
Replaces default e-mail sender
Changelog
2.0.0- initial release2.1.0- The customer can now subscribe to the configured groups in their profile- Added special unsubscription page with available subscription groups- Added console command for sending messages- Fixed inline images and track opening options when sending message
Certified Magento developers
We are an enthusiastic team of Magento developers experienced with fixing, editing, enhancing and developing custom solutions for this system with many years of experience. We have satisfied customers all over the world!
Continual innovation
We continuously extend our modules functionality and apply latest innovative technologies into our development in order to bring you the best possible user experience.
Well-developed documentation
Each of our modules includes well-developed documentation. Simplicity and usability of our guides are in the first place. With their help, the installation and setup of your module will be fast and simple.