Payment fee for Magento 2
0 Reviews
Reduce your costs for various payment methods or eliminate them completely. Our module will help you shift all the payment fees for eg. cash on delivery or PayPal to the customer.
Number of supported payment methods

Store and customer group restrictions support

Multi-currency support

No fee over limit amount

Full tax customization
Description
Payment methods with no limits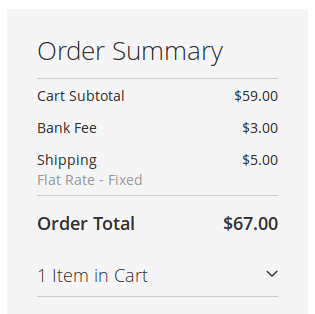 The more payment methods your store offers, the better for you and your customers. Not all payment methods are free of charge and that is why using some of them may be questionable. No more with the extension, we offer now.
Fees for various payment methods, such as cash on delivery or PayPal, may become inconvenient for your business over time. Our module allows you shift these fees to customers and reduce your costs to a minimum.
Various kinds of fees
According to the payment method, there are several options for counting fees like fixed or percentual from subtotal or grand total ready to be used for each payment method separately. It is possible to set the fee specified for each currency or one common based on Base currency. The more, there is an option to set the maximum limit when the fee is applied. So with the cart amount higher of this limit, customers are free from charging such fees. Every payment fee may also be restricted only to specific stores or customer groups.
The Fee and its amount may be viewed at the specific payment method at checkout so that the customer knows the payment method fee is charged. The fee is mentioned in cart total summaries such as shipping and other fees and it is the same at orders and invoices overview.
We put simplicity and usability of our modules in the first place. The Payment fee module can be set up in just a few steps. Its main advantage is full customizability and many setup options for various payment methods. The module also fully accepts and displays the currency in your currently selected store.
Key features
Number of supported payment methods

Feel free to use your favorite payment methods with no doubts whether it works or not. Our module supports major of common payment methods.

Many setups and customization options

While the purpose of this module is quite simple, there are still many useful setting options to fit your needs

Store and customer group restrictions support

It is possible to set up each payment fee separately and use all Magento's restriction options as you are used to.

Multi-currency support

The Fee can be set for each currency separately

No fee over limit amount

Offer your customer no fee when purchased for more than minimum price amount.

Fee management

All fees are listed in a grid and each payment fee has its own setup page full of useful customizations.

Option to append fee info to the payment method

Want to show the customer review of used payment fee? Here we go with simple fee review just next to each payment method right in the checkout.

Full tax customization

Payment fees are completely taxable. Similar to shipping, the fee has specific tax class, all prices and displays are fully configurable.

Virtual checkout support

Fees are now also available in virtual checkout.
Certified Magento developers
We are an enthusiastic team of Magento developers experienced with fixing, editing, enhancing and developing custom solutions for this system with many years of experience. We have satisfied customers all over the world!
Continual innovation
We continuously extend our modules functionality and apply latest innovative technologies into our development in order to bring you the best possible user experience.
Well-developed documentation
Each of our modules includes well-developed documentation. Simplicity and usability of our guides are in the first place. With their help, the installation and setup of your module will be fast and simple.
Key Features
Reviews
Changelog
Key Features
Number of supported payment methods
Many setup and customization options
Full support for multiple currencies
Store and Customer group restrictions support
Multi-currency support
No fee over limit amount
New Fee management
Option to append fee info to payment method
Virtual checkout support
Product Reviews
You're reviewing: Payment fee for Magento 2
Changelog
Fee changelog
2.2.3
updated install script to support Magento 2.3.x
2.2.2
added option to calculate fee by base w/wo tax
2.2.1
 fixed javascript error in checkout
 amended default payment method selection after switching shipping method
 configuration now uses correct ACL resource
 misc formatting amends
 fixed incorrect invoice tax in certain configuration
2.2.0
fee_incl_tax, base_fee_incl_tax values are now correctly converted to invoice
totals are now reloaded each time payment method is changed in administration
rounding is no longer incorrectly applied to fixed fee calculation
percentage fees now respect currency specific values
tax calculation rewritten to better match magento design
fee tax rate is now calculated and displayed correctly across all pages
it is now possible to refund specific fee amount when creating credit memo
fixed issue that prevented invoice printing in frontend
virtual checkout is now fully supported
2.1.3
fixed iOS specific issue with MutationObserver
fixed currency fieldset not showing in Magento 2.1
2.1.2
fixed issue with PayPal when tax calculation is set to include taxes
2.1.1
added option to optionally round percentage fees
payment title now shows proper decimal places if required
fixed issue where grand total would not always include fee tax
fixed issue where disabled fees were appearing in checkout
fixed issue with PayPal amount not matching totals
2.1.0
fixed payment title format
added optional maximum order subtotal condition
added currency specific fee amounts
2.0.2
workaround for Magento 2.2.2 bug #12819
2.0.1
added option to append fee info to payment method name in checkout
moved fee management from config to custom CRUD
added ability to set fees for specific customer groups and stores
2.0.0